Zoho vs. G Suite (Now Google Workspace)
The modern workplace is constantly evolving in order to adapt to the speed of technology innovation and to accommodate an increasingly remote workforce. Now more than ever before, businesses and other organizations need to make it easy for their employees to stay connected and work together, regardless whether they're in-office or spread across the four corners of the world. Fortunately, there's software designed specifically to solve that challenge.
Zoho Workplace and Google Workspace are two popular collaboration and productivity software suites that bundle email, chat, calendaring, document management and much, much more. Both Zoho Workplace and Google Workspace are cloud-based, meaning their full roster of applications are accessible from anywhere in the world; this makes them ideally suited for any organization, especially those with a remote workforce.
It's worth noting that Google Workspace is the latest iteration of Google's much-beloved G Suite; the company officially announced the name change, as well as unveiled new features, on October 6, 2020. Though Zoho is far from the household name that Google is, the software company has been holding its own against its more well-known competitors for years now and is fast becoming the office productivity suite of choice for organizations around the globe.
In this blog post, we'll take a closer look at how Zoho Workplace and Google Workspace stack up so that, when the time comes, you can choose the right collaboration and productivity software for your business.
Feature Comparison
Zoho Workplace
All of Zoho Workplace's business apps fall into one of three categories: Office Productivity, Team Collaboration or Unified Communication. In category number one, Office Productivity, you'll find the following:
The second category, Team Collaboration, includes:
And finally, the third category, Team Collaboration, consists of:
Zoho Mail also includes built-in Calendar, Tasks, Notes, Bookmarks and Contacts applications.
Google Workspace
Like Zoho Workplace, Google Workspace boast an impressive array of apps designed to promote workplace productivity, collaboration and communication. We've listed the apps below that roughly correspond to those included in Zoho Workplace:
Unlike Zoho Workplace, which rolls calendaring and notes into its webmail hosting service, Google Workspace breaks those capabilities out into their own separate apps, Calendar and Keep. As its name implies, Calendar is an online shared calendaring tool that integrates with Gmail, Drive, Contacts, Sites and Meet and enables you to share calendars. Keep is a note-taking service that facilitates team collaboration by enabling employees to share notes, lists, photos, audio and drawings, all in real time.
Although Google Workspace doesn't have a social intranet app like Zoho Workplace, it more than makes up for that by featuring a number of other apps that you can't find in Zoho, including:
Security & Privacy
When it comes to security, Zoho Workplace and Google Workplace are tied. Both software suites offer two-factor authentication, encryption at rest for email, data encryption at rest and in transit for file storage and TLS encryption, so, regardless which one you choose, you can rest easy at night knowing your data is secure.
It's only when we look at privacy that things start to become less clear cut. As we've mentioned in previous articles, Google's privacy policy is a bit murky, and the company has received its fair share of criticism for its data collection practices and user tracking. Zoho, by comparison, claims to have never sold users' information for advertising and clearly explains how it collects and processes users' data. Although this shouldn't discourage interested parties from trying out Google Workspace, it is certainly something to keep in mind when choosing a collaboration suite.
Technical Support
In the battle over technical support, Google Workspace is the clear winner. Although Zoho Workplace offers an extensive knowledge base, which includes webinars, FAQs and user guides, as well as a self-service ticketing system, neither can hold a candle to Google's 24/7 email, chat and phone support. On top of that, Google Workspace also boasts its own knowledge base, training certifications and customer support forums.
Cost & Storage
Both Zoho and Google offer multiple licensing plans for their respective office suites, each with a different storage allotment and capabilities relative to its price. They are as follows:
Zoho Workplace
Cost
Storage
Forever Free
Free
5 GB per user (for up to 5 users)
Standard
$3/user/mo. (billed annually)
30 GB Mail storage per user

5 GB WorkDrive storage per user

Professional
$6/user/mo. (billed annually)
100 GB Mail storage per user

100 GB WorkDrive storage per user
It's worth noting that Zoho also offers a Mail-only plan that starts at $1 per user, per month (billed annually). Organizations that opt to use this plan gain access to all of Zoho Mail's features, including email hosting for multiple domains, email and folder sharing and offline access, as well as calendaring functionality.
Google Workspace
| | | |
| --- | --- | --- |
| | Cost | Storage |
| Business Starter | $6/user/mo. | 30 GB cloud storage per user |
| Business Standard | $12/user/mo. | 2 TB cloud storage per user |
| Business Plus | $18/user/mo. | 5 TB cloud storage per user |
| Enterprise | Pricing available upon request | Unlimited cloud storage |
Zoho Workplace vs. Google Workspace at a Glance
Zoho Workplace
Google Workspace
Mail
Zoho Mail
Gmail
Business Apps
·       Writer

·       Sheet

·       Show

·       WorkDrive

·       ShowTime

·       Meeting

·       Mail

·       Cliq

·       Connect

·       Docs

·       Sheets

·       Slides

·       Drive

·       Meet

·       Gmail

·       Chat

·       Currents

·       Forms

·       Sites

·       App Script

·       Cloud Search

·       Admin

·       Endpoint

·       Vault

·       Work Insights

Security
✓ Two-factor authentication

✓ Encryption at rest (for email)

✓ Encryption at rest and in transit (for file storage)

✓ TLS encryption

✓ Two-factor authentication

✓ Encryption at rest (for email)

✓ Encryption at rest and in transit (for file storage)

✓ TLS encryption

Privacy
Zoho does not sell user information for advertising and transparently outlines its data privacy policy.
Google has gained notoriety for privacy violations, and the company's privacy policy is challenging to understand.
Technical Support
·       Knowledge base

·       Self-service ticketing system

·       24/7 email, chat and phone support

·       Knowledge base

·       Training certifications

·       Support forums

Storage

Forever Free — 5 GB per user

Standard — 30 GB Mail storage per user; 5 GB WorkDrive storage per user

Professional — 100 GB Mail storage per user; 100 GB WorkDrive storage per user

Business Starter — 30 GB cloud storage per user

Business Standard — 2 TB cloud storage per user

Business Plus — 5 TB cloud storage per user

Enterprise — Unlimited cloud storage

Cost

Forever Free — Free

Standard — $3/user/mo.

Professional — $6/user/mo.

Business Starter — $6/user/mo.

Business Standard — $12/user/mo.

Business Plus — $18/user/mo.

Enterprise — Pricing available upon request
Collaboration Suites & Archiving Solutions: A Match Made in Heaven
At the end of the day, it's hard to point to a clear frontrunner. Though Zoho Workplace is certainly the more affordable option and earns points for its focus on privacy, one could argue that users get more bang for their buck with Google Workspace, which offers a larger array of apps and superior technical support. Ultimately, which option is best depends entirely on your organization's unique needs.
Regardless whether you choose Zoho Workplace, Google Workspace or a different collaboration software suite, be sure to safeguard your most sensitive data — including emails, social media communications and text messages — by investing in an archiving solution. Archiving is essential for everything from complying with industry regulations to preparing for pending litigation, so it's important that you choose a solution you can trust.
If you need help finding the right archiving solution, we recommend reading our eBook on the subject; it's full of practical tips on what to look for in a solution and how to get the most mileage out of it. Or, if you'd prefer to someone directly, contact the specialists at Intradyn today — we're here to assist with all of your archiving needs.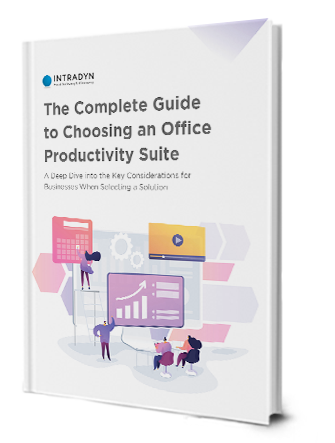 Empower Your Employees to Do More with the Right Tools
Google Workspace, Zoho Workplace, Microsoft 365 and more — start your search for the ideal office productivity suite with our brand-new, in-depth eBook.
Get the eBook