8 Popular Outlook Alternatives to Check out Today
With a reported 1.2 billion users, Microsoft 365 (formerly Office 365) is one of most popular email servers on the planet, making Outlook one of the most popular email clients. Thanks to its robust feature set, enterprise-grade security and Office integrations that allow for additional extensibility, Microsoft Outlook has long been the email client of choice for many businesses.
Despite its popularity, Outlook's cost can be prohibitive, and its feature set more expansive than what some organizations might require. If you're in the market for an email client and want to see what Outlook alternatives are out there, you've come to the right place — let's get started.
Microsoft Outlook Limitations
For all the good Outlook can do, it also comes with some serious limitations, starting with pricing. There are two ways to purchase Outlook: as a standalone license or as part of Microsoft 365. The former will cost you $139.99 per license; each license is only good for one PC or Mac, making this option an unwise investment for enterprise-level organizations and unattainable for small businesses.
Pricing for the latter starts at $5 per user, per month for Microsoft 365 Business Basic and runs all the way to $20 per user, per month for Microsoft 365 Business Premium; all versions with an annual commitment. Although Business Basic may be more affordable for freelancers and small businesses than higher tiers, you still end up paying more for features that you might not want or need.
Speaking of Outlook's extensive feature set, it can be tedious, time-consuming and even difficult to get your employees up to speed on how to use different components within the Outlook interface. And although Outlook's long list of capabilities may be a selling point for businesses that actually need them, for those that don't, it can seem like a lot of dead weight.
Finally, Outlook isn't exactly known for its reliability. Despite being the email client of choice for many businesses, Outlook is prone to being sluggish, to unexpectedly crashing, to encountering send/receive errors and more.
8 Popular Outlook Alternatives
Apple Mail
Apple Mail — more commonly referred to as just "Mail" — is Apple's native email client. Much of Apple Mail's beauty lies in its simplicity: Its interface has a clean design, is easy to use and offers much of the same basic functionality as Outlook, including email sorting and archiving and file sharing. Although Apple Mail has been criticized for being perhaps too basic, Apple Mail comes with many optional add-ons and recent updates have added a whole host of new features to the app, enhancing its functionality. You can even use Apple Mail to sign into other accounts, including Google, Yahoo, iCloud, AoL and — you guessed it — Outlook.
Price: Free with macOS, iOS, watchOS or iPadOS
Users Say …
"I like the fact that it is extremely easy to use, and it has all of my information stored in one area. All of my accounts — whether Yahoo, Exchange, or Gmail can be housed in one area, so I can easily and efficiently grab my emails and respond. Being on the go most of the time, it's easy to be able to forget to check emails. And having multiple accounts is frustrating to have to sign in to each of them. This makes my life so much easier. Thanks Apple Mail!"
eM Client
Similar to Apple Mail, eM Client has a clean interface and is intuitive to use, however, it achieves this without sacrificing functionality. Like Outlook, eM Client offers built-in calendaring, instant messaging, appointment and contact management and tasks lists. Users also get advanced features, email snoozing and scheduling, eM Client is a full-service solution in a deceptively simple package. eM Client supports PGP encryption, offers automated backups and is available for both Windows and Mac.
Price: Individuals can get eM Client for free; eM Client Pro for companies starts at $49.95 per unit, however, this price decreases the more units you purchase.
Users Say …
"Easy to use mail product that integrates well with Microsoft Windows 10. eM Client has good organization capabilities and presents a good visual way of organizing and identifying emails. Setup was pretty straight forward, and integration with host mail services (use GoDaddy, Gmail and Mmail) was not a problem. Also easy to setup multiple email id feeds."
Evolution
Produced by open source software group, the GNOME Project, Evolution is a "personal information management application that provides integrated mail, calendaring and address book functionality." Evolution is available for Linux, though not for Windows or Mac, making it a popular Outlook alternative amongst a relatively niche audience. Evolution features a customizable dashboard, adaptive junk email filter and support for IMAP and POP3 protocols and can integrate with Microsoft Exchange Server.
Price: Free
Users Say …
"Evolution is the only email client in Linux that, out-of-the-box, will connect to IMAP, IMAP+, and EWS. It is really, really stable, and the interface (a clone of Outlook circa 1997) is super usable. It connects to every calendar I can think off via integration with Gnome (via evolution-data, probably?).

It could use a little visual refresh – but if you're like me and you have to connect to Exchange, and manage your personal data from various other sources, I challenge you to find a better one-stop shop."
Gmail
When we think of Gmail, Google's free, web-based email client designed for personal use typically comes to mind. However, Google also offers a business version of Gmail through Google Workspace (formerly G Suite), the company's productivity and collaboration application suite. This version of Gmail includes anywhere from 30 GB to unlimited cloud storage, depending on which plan you choose, and is integrated with Google Chat, Meet and Rooms in a bid to compete with Microsoft and Slack.
By paying for Google Workspace, users get all the same basic functionality they're used to in the free version of Gmail, such as Google Calendar, Drive and Docs, as well as access to the full Google Workspace toolset, including custom domains, a website builder, a work optimization tool and enhanced security. Google Workspace also offers Gmail add-ons for even more extensibility.
Price: Free for personal use; Google Workspace starts at $6/user/mo. for Business Starter
Users Say …
"I also prefer using the Gmail email service over a typical email client like Outlook because it is easier to use. I can access Gmail anywhere and have memorized the keyboard shortcuts to save time. I use the Gmail app to check business emails on my phone, and it was easier to set up than Microsoft Outlook."
Discover the Difference Between Google Workspace and Gmail >>
Mailbird
"Designed around the user." "More sophisticated than Outlook." "Outperforms Outlook in most departments." These are just a few of the claims that Mailbird makes about its desktop email client and, if its users are to be believed, they're all true. With features such as a unified inbox, customizable layout, robust app integrations, email snoozing and attachment search, it's no wonder that Mailbird is top contender for best Outlook alternative. Although it does come at a cost, Mailbird is significantly less expensive than Outlook and Gmail for business. The only real drawback to Mailbird is that it is only available for Windows; however, plans to bring Mailbird to Mac are currently in the works.
Price: $5.75/mo. for Mailbird Business
Users Say …
"Mailbird gives me what other desktop email programs didn't, a chance to stay on top of my emails. It's fast and with the unified mailbox, emails don't get lost in the shuffle. When my team first switched, we were able to import all the email settings from the other mail program we were using. Setup was instant!"
Postbox
Designed with small businesses in mind, Postbox offers much of the same simplicity as Apple Mail but with a more advanced feature set, making it well-suited to accommodating the demands of any workload. Postbox includes many of the same features as Outlook, such as archiving, spam filtering and quick search, and then some: Postbox's impressive features set also boasts over 25 design signature templates, smart folders, a Quick Bar for fast message triage and a vast array of app integrations.
Price: $29/user for 1-year license; $49/user for lifetime license
Users Say …
"Postbox has allowed me to aggregate all of my email messaging into one place and keep[s] my messages and attachments all organized in one easy-to-use and reliable local work area. I can't say enough, because I am truly indebted to the developers of Postbox for making such a great app and helping me organize my very busy messaging life and work/personal business for the past seven years."
Spark
If you're in the market for an Outlook alternative for the Mac, look no further than Spark. This third-party email client earns high marks for its clean design, intuitive interface and clever features such as Smart Inbox, which collects and automatically categorizes emails from different accounts, and Quick Replies, which provides the user with templated responses. Similar to Outlook, Spark offers snooze, schedule delivery, email reminders and task management capabilities. At present, Spark is only available for Mac, though a Windows-compatible version is on its way.
Price: Free for personal use; Spark Premium starts at $6.39/user/mo.
Users Say …
"Spark is our favorite third-party email client for the Mac because it has a great combination of powerful features and a clean, well-designed user interface. It's a great productivity tool for individual users, and also offers some innovative features for teams that need to collaborate on emails together."
Thunderbird
Rounding out this list of Outlook alternatives is Thunderbird, Mozilla's open source, cross-platform email client. In addition to standard features, such as a one-click address book, email filtering and attachment reminders, Thunderbird also offers an extensive catalog of add-ons, making it highly customizable. Thunderbird also boasts robust security capabilities, including remote image and phishing protection and spam filtering. Since Thunderbird is an open source project, it's always free, and anyone is welcome to contribute design code, meaning it's always innovating.
Price: Free
Users Say …
"If you don't like using relatively limited Web-based email tools, or if you'd like to further customize your browsing and organizational experience, Thunderbird is a must download. It's free, it has a number of available plug-ins and updates, and it's a perfect fit for almost anyone with multiple email accounts to manage."
Email & Archiving: A Match Made in Heaven
We hope you find this list of Outlook alternatives helpful and that it steers you in the right direction in your search for the perfect email client. While you're here, we'd like to take the opportunity to talk to you a little bit more about email archiving.
Although Outlook and many of its alternatives offer some sort of native archiving capability, they're typically ill-equipped to accommodate the demands of a growing business. Here at Intradyn, we specialize in developing archiving solutions designed to meet all of your archiving needs, whether you run a small business or an enterprise-level organization. Our innovative features, legal and eDiscovery toolset, robust security and ability to integrate with most the top email servers on the market today make Intradyn the leading email archiver of choice for businesses everywhere.
We're so confident in our solution that we encourage you to put Intradyn to the test with the questions you find in this free archiving solution evaluation eBook. Or, if you'd prefer to talk to someone directly, contact us today to find out what Intradyn can do for you.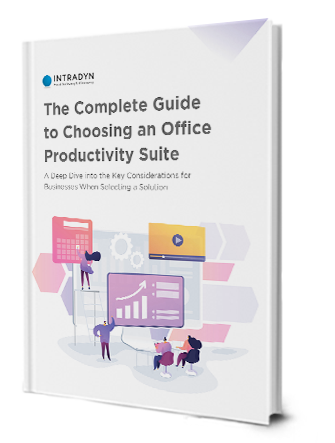 Empower Your Employees to Do More with the Right Tools
Google Workspace, Zoho Workplace, Microsoft 365 and more — start your search for the ideal office productivity suite with our brand-new, in-depth eBook.
Get the eBook