Complete Your Software Ensemble: Office 365 vs. G Suite (Workspace)

If collaboration and productivity application suites were celebrities, Microsoft Office 365 and G Suite (Google Workspace was formally called G Suite) would be on the A-list, with starring roles in small and medium-sized businesses and enterprises around the world. Both suites boast an impressive repertoire of capabilities, including business email, cloud storage, word processing, video conferencing and more, making them an exciting addition for any organization looking to complete its software cast list. The real question is, with such a similar array of talents, how does one choose whether Office 365 or Workspace is the right fit for the part?
Snapshot: Office 365 vs. Workspace
| | | |
| --- | --- | --- |
| | Office 365 | Workspace |
| Business Email | Outlook | Gmail |
| Email Storage | 50 GB mailbox | 30 GB – Unlimited |
| Cloud Storage | 1 TB | 30 GB – Unlimited |
| Calendaring | ✓ | ✓ |
| Video Conferencing | Microsoft Teams | Hangouts Meet |
| Word Processing | Word | Docs |
| Spreadsheets | Excel | Sheets |
| Presentations | PowerPoint | Slides |
| Admin Tools | ✓ | ✓ |
| Browser-Based Version | ✓ | ✓ |
| Mobile-Based Version | ✓ | ✓ |
| Desktop Version | ✓ | X |
| Pricing | $5/user/mo. – $12.50/user/mo. | $6/user/mo. – $25/user/mo. |
Pricing
Office 365
Office 365 Business Essentials
$5/user/month
(annual commitment)
Office 365 Business Apps
$8.25/user/month
(annual commitment)
Office 365 Business Premium
$12.50/user/month
(annual commitment)
Workspace Drive
Basic
$6/user/month
Business
$12/user/month
Enterprise
$25/user/month
Features by Edition
Office 365
Business Essentials: For $5/user/mo., Business Essentials users get access to Microsoft's branded email hosting with a 50 GB mailbox and a custom email address, 1 TB of OneDrive cloud storage for file storage and sharing and 24/7 phone and web support. Business Essentials customers also gain access to Microsoft Teams, Microsoft's unified communications platform, which features team collaboration tools and video conferencing for up to 250 people.Although Business Essentials includes the full Microsoft Office suite, it only offers the web and mobile versions of Office apps, meaning users miss out on some of the advanced features of the desktop version. Business Essentials is best suited for organizations that require the flexibility to work remotely.
Business Apps: Starting at $8.25/user/mo., Business Apps is more limited than Business Essentials in that it does not offer business email (it includes Outlook, but not Exchange), calendaring or any of Microsoft's teamwork and communication apps, with the exception of OneDrive. What it lacks in these capabilities, however, it makes up for by providing the desktop version of the full Microsoft Office suite. As a fairly basic package, Business Apps is best suited for organizations that only require Office 365's core functionalities.
Business Premium: Business Premium combines the best of both Business Essentials and Business Apps. For $12.50/user/mo., customers get access to all of Microsoft's collaboration apps, the desktop version of the Microsoft Office Suite, a 50 GB mailbox and 1 TB of OneDrive cloud storage. Business Premium users also enjoy additional features, such as Microsoft Bookings for online appointment scheduling and Outlook Customer Manager, a customer relationship management solution designed to give businesses a 360-degree view of customers. Business Premium is best suited for businesses with large teams that require access to the full range of Microsoft tools and services, as well as advanced collaboration capabilities.
Workspace
Basic: For $6/user/mo., Basic plan users get access to business email through Gmail, Google's full office suite (Docs, Sheets, Slides), 30 GB of cloud storage and 24/7 phone, email and online support. Basic plan customers also have access to collaboration and productivity features, including shared calendars, team messaging and video conferencing. The Basic plan is best suited for businesses that require the flexibility of a browser- and mobility-based solution and that do not have significant cloud storage requirements.
Business: At $12/user/mo., the Business plan offers all of the features of the Basic plan, as well as a low-code app development environment, smart search across the entire Workspace and unlimited cloud storage (or 1 TB for accounts with fewer than five users). The Business plan also provides additional security and administration controls, such as data regions, which "[limits] the geographical location of your covered Workspace data at rest," and eDiscovery for emails, chats and files. The Business plan is ideal for organizations that require advanced search capabilities and large cloud storage capacity.
Enterprise: At $25/user/mo., the Enterprise plan is far and away the most expensive of Workspace's three pricing plans — and some might say for good reason. In addition to offering all of the features of the Business plan — including unlimited storage — the Workspace Enterprise plan boasts Cloud Identity Premium for unified user, device and app management and a robust set of security and administrative controls, including:

Security Center for Workspace
Alert Center for Workspace
Access Transparency
Data Regions for Workspace
Data Loss Prevention for Gmail
Data Loss Prevention for Drive
Hosted S/MIME for Gmail
Enterprise-Grade Access Control with Security Key Enforcement
Gmail Log Analysis in BigQuery
As its name implies, the Enterprise plan is best suited for large-scale organizations, especially those with advanced storage and security requirements.
Office 365 vs. Workspace Breakdown: Feature Comparison
Office Applications
Although both Office 365 and Workspace offer a collection of office apps for document generation, Office 365 is perhaps better known for this functionality — after all, it's hard to imagine any business founded in the past 30 or so years that doesn't depend on Word, Excel or PowerPoint. That said, Workspace has steadily gained ground since it was launched in 2006 (back when it was still known as Google Apps), in no small part due to its emphasis on collaboration.
From a collaboration perspective, Workspace has the upper hand: Since it's entirely mobile- and browser-based, Workspace makes it easy for multiple contributors to make changes to documents at the same time, with each individual edit automatically tracked and saved to Google Drive. Compared to Office 365, which requires contributors to download the file, manually track and save changes, and reupload the edited file for the next contributor to see, Workspace's approach is far more efficient. That said, Workspace's lack of a desktop version is a serious drawback because it prevents users from working offline. Add to that the fact that Google Docs, Sheets and Slides are all less sophisticated than their desktop-based Microsoft counterparts, and you'll gain a clearer understanding as to why Workspace hasn't completely overtaken Office 365's market share.
Although the vast majority of people are undoubtedly more familiar with Microsoft's Office products, there are clear pros and cons to both Office 365 and Workspace — which one is the right fit for your organization depends entirely on your specific business needs.
Pros
Cons
Office 365

Mobile-based, browser-based and desktop-based versions available
More sophisticated applications

Apps require local installation
Document contributors must manually track and save changes

Workspace

Changes and automatically saved to Google Drive
Greater emphasis on collaboration

No desktop version
Less sophisticated applications
Teamwork & Communication Applications
In addition to the standard set of office applications and collaborative capabilities mentioned in the previous section, both Office 365 and Workspace also offer features that promote enhanced communication and productivity in the workplace.
Office 365 Business Essentials and Business Premium users have access to SharePoint and Microsoft Teams. With SharePoint, Microsoft's mobile intranet, businesses can build team sites, on which employees can share files, manage content, build complex operational workflows (with help from PowerApps) and more. Compatible with Macs, PCs and mobile devices, SharePoint can be customized to your business' exact specifications. Microsoft Teams, Office 365's unified communications platform, enables employees to communicate in real time via live chat, VoIP and video conferencing.
SharePoint has received praise for its robust, out-of-the-box feature set — in fact, some users might find its feature set to be so robust that it's overwhelming, which can be challenging when choosing which features are most appropriate for your business needs. Microsoft Teams is well-regarded among users for being highly customizable and for its ability to integrate with a wide variety of apps and services but loses points for its difficulty of use in non-Microsoft environments.
On the Google side, the closest analogue Workspace offers to Microsoft Teams is Hangouts. Google Hangouts — broken into the subcategories of Hangouts Chat and Hangouts Meet — is a joint messaging and video conferencing platform that enables employees to share feedback in real time and to join video calls from anywhere in the world. Hangouts earns high marks for its simple setup, ease of use and robust integration with other products and services in the Google ecosystem, though users have criticized its messaging functionality for being less advanced than that of its competitors.
Although there is no Google equivalent to SharePoint, Workspace does include Currents, an internal enterprise communication platform. Currents (the successor to Google+) is designed to help business leaders "gather input through meaningful, focused discussions on topics that matter to [their organizations]." If that sounds a little conceptually nebulous, think of it this way: Currents is merely a tool that employers can use to interact with staff directly in order to field ideas and provide immediate feedback. Given that Currents is still relatively new, it's difficult to gauge how much of a competitive differentiator it will be for Workspace just yet.
Pros
Cons
Office 365

SharePoint is compatible w/ Macs, PC's and mobile devices
Both SharePoint and Microsoft Teams are highly customizable
Microsoft Teams integrates with a wide variety of apps & services

SharePoint's feature set can be overwhelming
Microsoft Teams is best-suited to Microsoft environments

Workspace

Hangouts is easy to set up and use, w/ a low/no learning curve
Hangouts easily integrates w/ other Google products & services

Hangout Chat is less advances than competitors' messaging platforms
No direct equivalent to SharePoint
Business Email
When it comes to business email, Office 365 and Workspace offer the most comprehensive services on the market, consistently topping "best of" lists year after year. On Office 365's side, Outlook users get access to 50 GB of mailbox storage (which is separate from OneDrive, so you won't eat up valuable cloud storage space), a maximum attachment size of 20 MB and a recipient limit of 500 — values consistent across all of Office 365's pricing tiers.
Comparatively, Workspace's Basic plan only offers 30 GB for email and cloud storage combined, although Workspace Business and Enterprise both offer unlimited email and cloud storage (or 1 TB for accounts with fewer than five users). Gmail's maximum attachment size is also slightly higher than Outlook's, at 25 MB, but it offers the same recipient limit.
Other benefits to both Outlook and Gmail include robust security, powerful spam and phishing filtering, rapid search capabilities and intuitive user interfaces. In fact, the two services are so closely matched that there's no clear frontrunner, which means it's entirely up to you to decide which one best meets your business' email requirements.
Office 365 Outlook
Workspace Gmail

50 GB mailbox storage (separate from OneDrive
20 MB maximum attachment size
Recipient limit of 500

30 GB (Workspace Basic) or unlimited (Workspace Business & Enterprise) mailbox storage
25 MB maximum attachment size
Recipient limit of 500
Cloud Storage
Office 365 offers 1 TB of cloud storage through OneDrive across all of its pricing tiers; as mentioned in the previous section, Workspace offers either 30 GB or unlimited cloud storage via Google Drive, depending on which plan you choose.
OneDrive gives users the option to use block-level syncing, which only copies the changed portion of a file from source to target any time it's updated, rather than the entire file; this method of syncing allows for faster uploads and uses less bandwidth. It's worth noting that this capability is limited to Microsoft file types and is not applicable to images and PDFs. Despite not offering a block-level syncing option, Google Drive is actually the faster of the two when it comes to uploading files, and automatically syncs any changes made to a file across all devices.
Office 365 Outlook
Workspace Gmail

1 TB cloud storage
Block-level syncing option

30 GB (Workspace Basic) or unlimited (Workspace Business & Enterprise) cloud storage
Does not offer block-level syncing option
Automatically syncs changes to files across all devices
What Users Say
Office 365
"Office 365 is used throughout my entire organization. Through its suite of applications, it solves all of our needs for any spreadsheets, word processing documents, database & publishing needs. This is the industry standard for businesses and deservedly so… [Office 365 is a] simple, easy to use suite of applications that typically require minimal training for end-users. Sometimes when version upgrades happen, subtle changes can cause confusion for the average user." — Tracy Burton, Network Administrator, Insight Lighting
"For cross-platform office applications, there's simply no alternative to Office 365. Word, despite some minor inconveniences, is the best of all word processors, and Excel is the no-contest best spreadsheet. PowerPoint is at the top of the heap among presentation packages… Office 365 is the no-contest productivity colossus among all-platform app services, and easily wins our Editors' Choice for online office suites." — Edward Mendelson, PCMag
"We use Microsoft Office 365 across the whole organization. At a minimum, we utilize the Exchange Online component for email for nearly all staff, but the majority of users also use the Office apps via O365. There are also a handful of users utilizing audio conferencing and PowerBI apps as needed… For larger organizations with users that require the Microsoft Office apps, it is great and makes managing users and licenses fairly easy. Getting regular software and security updates take some of the stress off of IT. Things can get tricky if you have requirements for certain apps but don't need to jump to a larger license level and also don't want to manage a lot of one-off/add-on licenses." — Nicolas Poague, Senior I.T. Support Technician, Hoober Inc.
Workspace
"Overall, Google Workspace Business is everything you have come to expect from Google. It's sleek, easy to use, secure, and robust. It's also very difficult to beat their anti-spam and antiphishing capabilities, and they have had an excellent track record in making good on their 99.978 percent uptime. While I can't classify Google Workspace Business as the best in all categories, it's certainly an excellent candidate in both productivity apps and email hosting. It's worth a hard look when choosing a path for your organization." — Daniel Brame, PCMag
"We use Workspace across the whole company. It has let us be agile with licensing and features and made it easier for us to administer the system by being a cloud based solution. We trust that Google has more expertise and resources to build redundancy and availability into their systems, so we don't have to fumble with those things on premises… Businesses that want ease of use and administration, seemingly limitless storage, and agility with their users and licensing would make good use of Workspace." — Kristopher Kauth, Systems and ISMS Manager, MarketLinc
"I recommend Workspace to clients all the time. It's a great email solution for most businesses, because it provides excellent stability and receivability, along with a bunch of additional services you don't typically find in a single package. It also integrates with pretty much everything out there that does integrations — CRMs, scheduling tools, Slack… Got a space-age microwave? It probably connects to Workspace. Just kidding. But seriously, the Workspace API is great, and nearly every SAAS developer out there integrates with it." — Jillyn Dillon, Founder & Executive Director, Technology Aloha
Office 365 & Workspace Alternatives
Businesses that aren't interested in shelling out for either Office 365 or Workspace have a wide variety of free and low-cost alternatives to choose from, including:
Closing Thoughts
Casting the right collaboration and productivity application suite for your business can be a real beast, whether the star of the show is Office 365, Workspace or anything in between. The same is true when casting the right email archiving solution, which is why we put together this in-depth eBook to help make things a little easier.
At Intradyn, we firmly believe that which archiving solution you use matters just as much — if not more — than any of the other platforms in your business' software ensemble, which is why we're committed to developing the best all-in-one archiving solution on the market. Want to learn more about what we're up to over at Intradyn HQ? Reach out today to start a conversation.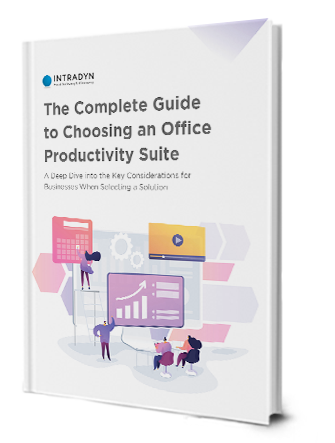 Empower Your Employees to Do More with the Right Tools
Google Workspace, Zoho Workplace, Microsoft 365 and more — start your search for the ideal office productivity suite with our brand-new, in-depth eBook.
Get the eBook